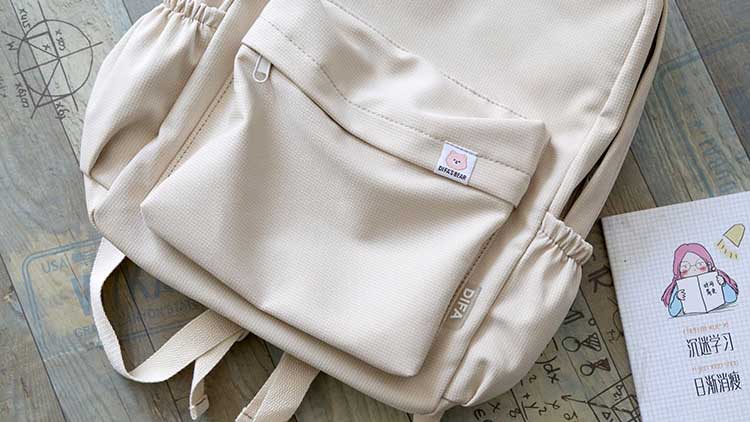 Things to Consider When Buying A Large School Backpack
A large school backpack allows you to carry your laptop, folders full of important papers, binders full of notes, textbooks, calculators, or whatever else you might want to bring with you on the go. This type of school backpack is designed to be comfortable, durable, and long-lasting. It's important to consider your specific needs when choosing a backpack for school. In this article, we'll go over some of the things to consider when buying a large school backpack.
Why you should consider a large school backpack?
If you are looking for a large backpack that can carry everything you need, then you should consider some of the benefits of a large school backpack. One benefit is that you will have plenty of space to store all of your school supplies. This includes textbooks, notepads, binders, and other materials. Another benefit is that a large backpack will distribute the weight more evenly, which can help to prevent back and shoulder pain. Additionally, a large backpack will typically have more pockets and compartments, which can help you to stay organized. Finally, a large backpack can be a great way to show off your style. Whether you are looking for a trendy design or a more classic look, you are sure to find a large backpack that suits your taste. So if you are in the market for a new backpack, be sure to consider the many benefits of a large school backpack.
Things to consider when buying the large school backpack
1. Material
When choosing a backpack, the material is one of the most important considerations. Nylon is a popular choice for backpacks due to its strength and lightweight nature. However, other materials such as canvas can also be used. Canvas is more prone to wear and tear over time, but it can offer more comfort and style. Ultimately, the decision of which material to choose will come down to personal preferences.
2. Number of pockets
A backpack with a lot of pockets helps you organize your stuff better. They are very important for keeping your things safe when you are out in the open or crowded areas. You can easily put your laptop in a special compartment so it does not get damaged by other items that you might have inside it.
3. Capacity
When you are looking for a large school backpack, it is important to take into account how much stuff you will be carrying. Make sure the backpack has enough room to fit all your items, including textbooks, laptops, and other supplies. The ideal backpack size for students is usually between 20 and 35 liters.
4. Comfort
Comfort is an important factor when it comes to choosing the right backpack for school. Look for backpacks that are well padded, have adjustable straps, and have breathable material so your shoulders don't get tired or sore from carrying too much weight.
5. Practicality
Make sure the large school backpack has features that make it practical to use. Look for a laptop sleeve, key clip, water bottle pockets, and other features that will make your life easier.
6. Durability
The last thing you want is for your backpack to tear after just a few months of use. Look for backpacks made with sturdy materials that are designed to withstand daily wear and tear.
Conclusion
Now that you know what to look for when purchasing a large school backpack, be sure to shop at Pesann.com where you will find the best selection and prices. With so many different styles and materials to choose from, we are confident that you will find the perfect backpack for your child. And don't forget, our team is available to help with any questions or concerns you may have. Thank you for choosing Pesann as your go-to source for back-to-school supplies!
Related products
Original price

$49.99

-

Original price

$49.99

Pesann.com

Simplicity is sometimes the best and this simple canvas backpack does it very well. All we can say is that if you need a canvas backpack for colleg...

View full details

Original price

$49.99

-

Original price

$49.99

Original price

$39.99

-

Original price

$39.99

Pesann.com

To add a sleek and modern look to your personality, we are introducing a two-tone simple school backpack. The beautiful design and multicolor tone ...

View full details

Original price

$39.99

-

Original price

$39.99

Original price

$37.99

-

Original price

$37.99

Pesann.com

Stylish and simple, these Korean style backpacks will make anyone smile. Beautiful designed and crafted from high-quality material. This small scho...

View full details

Original price

$37.99

-

Original price

$37.99

Original price

$34.99

-

Original price

$34.99

Pesann.com

Check out this gorgeous day bag. This is a perfect, cheap small backpack that looks so stylish. This can be worn as double strap or with a single s...

View full details

Original price

$34.99

-

Original price

$34.99

Original price

$39.99

-

Original price

$39.99

Pesann.com

Every girl wants to hang out with charm. To put an impression on others, it's important to select the right backpack. The color tone and design of ...

View full details

Original price

$39.99

-

Original price

$39.99

Original price

$34.99

-

Original price

$34.99

Pesann.com

Our small corduroy backpack is specially made to keep everything well organized for easy access.  You can easily put your laptop, iPad, power bank,...

View full details

Original price

$34.99

-

Original price

$34.99

Original price

$39.99

-

Original price

$39.99

Pesann.com

Soft Canvas backpack, a high-quality spacious bag is perfect for students, travellers and business use. A multi-pocket design in a canvas material....

View full details

Original price

$39.99

-

Original price

$39.99

Original price

$96.00

-

Original price

$96.00

Pesann.com

This men's backpack is designed to suit all your travel and daily needs. Made from high-quality canvas material, it has a vintage design that is pe...

View full details

Original price

$96.00

-

Original price

$96.00

Original price

$85.00

-

Original price

$92.00

Original price

$85.00

-

Original price

$92.00

Pesann.com

Looking for a stylish and durable backpack for your adventures? Look no further than this vintage canvas backpack! Designed for both men and women,...

View full details

Original price

$85.00

-

Original price

$92.00

Original price

$85.00

-

Original price

$92.00

Original price

$87.00

-

Original price

$87.00

Pesann.com

Upgrade your school or college style with this vintage canvas backpack. Made with high-quality canvas material, this backpack is perfect for men an...

View full details

Original price

$87.00

-

Original price

$87.00

Original price

$98.00

-

Original price

$98.00

Pesann.com

This multifunctional men's backpack is the perfect companion for your travel and hiking needs. With a large capacity of 20L, this backpack is perfe...

View full details

Original price

$98.00

-

Original price

$98.00

Original price

$89.00

-

Original price

$89.00

Pesann.com

Looking for a practical and stylish backpack that can keep up with your busy lifestyle? Look no further than this vintage canvas backpack for men! ...

View full details

Original price

$89.00

-

Original price

$89.00

Original price

$64.00

-

Original price

$64.00

Pesann.com

Description: Looking for a stylish and practical backpack that can keep up with your daily routine? Look no further than our High-Quality Canvas Ba...

View full details

Original price

$64.00

-

Original price

$64.00

Original price

$86.00

-

Original price

$86.00

Pesann.com

Looking for a durable and spacious backpack for your daily commute or weekend adventures? Look no further than our canvas backpack! Made with high-...

View full details

Original price

$86.00

-

Original price

$86.00

Original price

$0.00

-

Original price

$0.00

Pesann.com

The multi pockets design of this small nylon backpack can store your items. It has all the sophisticated details to satisfy you in outdoor adventur...

View full details

Original price

$0.00

-

Original price

$0.00

Original price

$48.99

-

Original price

$54.99

Pesann.com

The waterproof school backpack is introduced with a beautiful design & flawless functionality to satisfy your requirements. Even it comes with ...

View full details

Original price

$48.99

-

Original price

$54.99

Original price

$39.99

-

Original price

$44.99

Pesann.com

The Korean Style School Backpack Tote Bag is the perfect backpack for students and professionals who are always on the go. This backpack is equippe...

View full details

Original price

$39.99

-

Original price

$44.99

Original price

$0.00

-

Original price

$0.00

Pesann.com

Looking for a backpack that can keep up with your active lifestyle? Look no further than the Front Pocket Waterproof School Backpack. This backpack...

View full details

Original price

$0.00

-

Original price

$0.00

Original price

$0.00

-

Original price

$0.00

Pesann.com

Looking for a spacious and stylish backpack that can keep up with your busy lifestyle? Check out our new Waterproof Large Simple School Backpack! M...

View full details

Original price

$0.00

-

Original price

$0.00

Original price

$0.00

-

Original price

$0.00

Pesann.com

Our waterproof school backpack is flawlessly designed to keep everything well organized for easy access.  You can easily carry your laptop, iPad, p...

View full details

Original price

$0.00

-

Original price

$0.00

Original price

$45.99

-

Original price

$45.99

Pesann.com

Keep your things dry and organized with this waterproof nylon student school backpack! This waterproof school backpack comes in a beautiful design ...

View full details

Original price

$45.99

-

Original price

$45.99

Original price

$34.99

-

Original price

$34.99

Pesann.com

Now it's time to carry all your laptop and other essential items around with comfort using this rose-embroidered backpack. This backpack is special...

View full details

Original price

$34.99

-

Original price

$34.99

Original price

$29.99

-

Original price

$29.99

Pesann.com

This cute fluffy backpack is made of high-quality material. It's safe and comfortable for your princess.  The super cute rainbow touch and magical ...

View full details

Original price

$29.99

-

Original price

$29.99

Original price

$36.99

-

Original price

$36.99

Pesann.com

This canvas tote backpack comes in a Korean style that can never go out of style. You can use this backpack as a school bag, teacher bag, business...

View full details

Original price

$36.99

-

Original price

$36.99

Original price

$39.99

-

Original price

$39.99

Pesann.com

To highlight your kids' persona and charm, we are here to introduce this waterproof school backpack. The beautiful cactus print on this backpack wi...

View full details

Original price

$39.99

-

Original price

$39.99