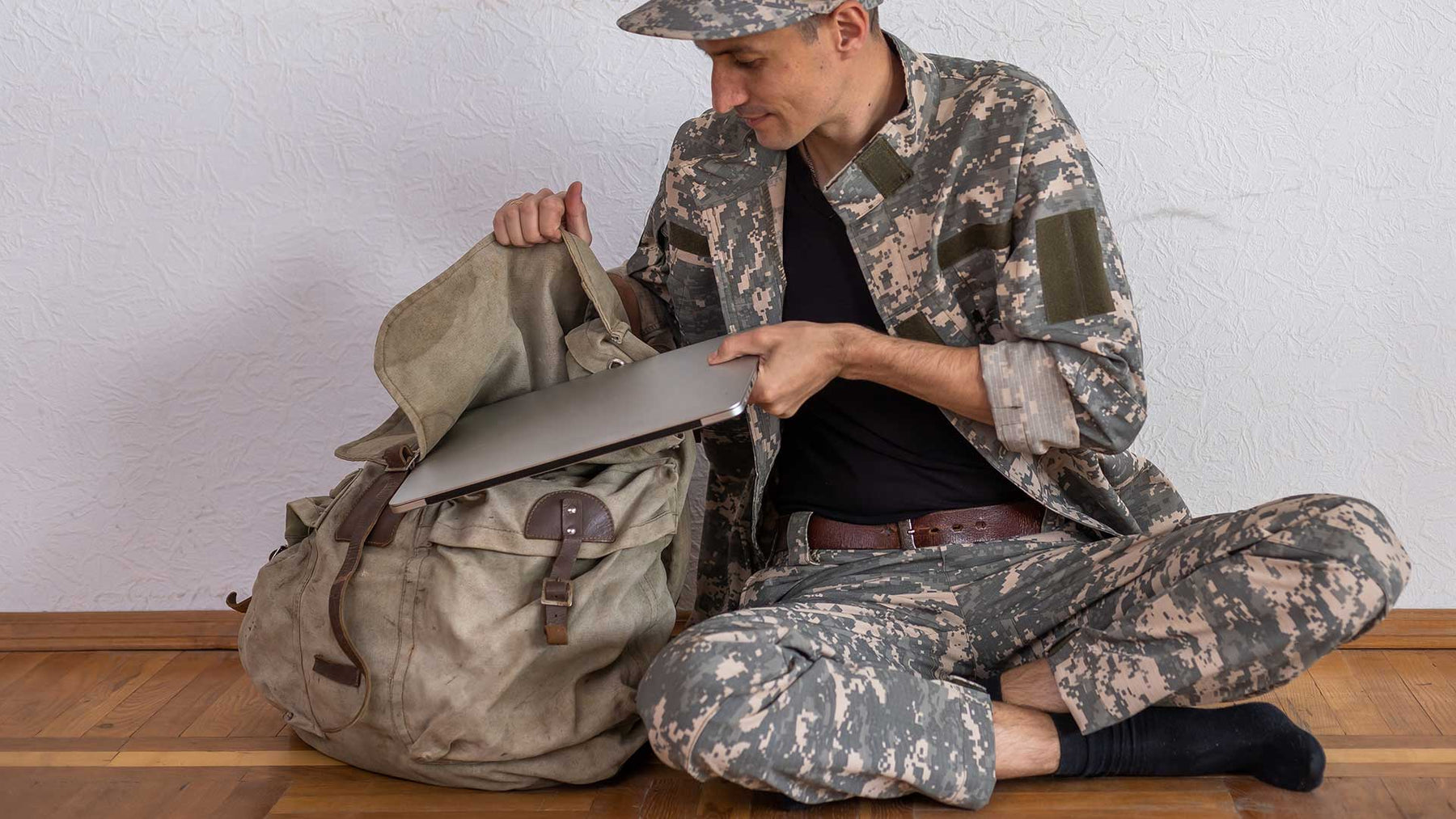 Things to consider when purchasing a military laptop backpack online
A military laptop backpack is a military style backpack that has been specifically designed to protect laptops. The type of laptop backpack is made of water-resistant material, perfect for rainy or humid conditions. It also has a dedicated laptop compartment and space for your tablet. The shoulder straps are padded for greater comfort when carrying a laptop, and the back panel is cushioned for extra support when carrying heavier loads. When opened up, you get a storage space like on traditional backpacks, but the laptop compartment means you can carry your device without worrying about damaging it from knocks or drops.
Things to consider when purchasing a military laptop backpack online
1. Material
During rainy or snowy conditions, a waterproof military backpack will protect your device from rainwater, snow, and moisture. The material on the outside of the backpack should be water-resistant. The best material is nylon, as this is strong and durable.
2. Capacity
The military laptop backpack should be spacious enough to hold your device and other essential items such as make-up or a book. Look for one with a dedicated laptop compartment that can hold laptops up to 17 inches in size. It should also have an internal pocket for holding your tablet or e-reader, with additional space for other belongings such as books, binders, and files.
3. Protection
You want a laptop backpack that will protect your device from knocks, drops, and bangs. Look for one that has padded straps to avoid damaging the laptop in transport. The padding also prevents the straps from digging into your shoulders. The materials that make up the backpack should be resistant to water, ensuring you can use it in wet conditions without worrying about damage to your device.
4. Cost
You will have to pay for express shipping when buying a military backpack online. If your device is expensive, you might have to increase the amount you pay to get it faster. However, consider buying an offline backpack if you're on a budget. This tends to be less expensive than the online ones because no postage costs are involved.
5. Reviews
Before buying the backpack online, take time to read through a few reviews by previous customers and check out the comments they've left. This will give you an idea of how many people like the product and what they think of it compared with other similar bags on the market. Look at all of these points before committing to one model or brand.
6. Warranty
You're not going to find a warranty for military backpacks, but you will be able to find guarantees and returns policies. More often than not, these are the same as the ones offered on other manufactured products such as electronics, cars, and clothing. You will find that many retailers offer a money-back guarantee if you're not satisfied with your purchase. To have your purchase returned if you're unhappy with it is usually free of charge within a specific time frame after receiving it.
Conclusion
Military laptop backpacks are the perfect way to protect your device from worry and damage. They're great for all weather conditions and will protect your device from being knocked or banged while you're out and about. Thanks to our military-grade construction, these backpacks are also water-resistant and can keep your laptop safe in any condition. And with a variety of colors and styles available, you're sure to find the perfect backpack for your needs. So don't wait any longer, head over to Pesann.com today and buy yourself a military laptop backpack!
Related products
Original price

$69.99

-

Original price

$69.99

Pesann.com

Looking for the ultimate military canvas backpack? This is the best army backpack for you! Made of high-quality 16oz canvas fabric, this military r...

View full details

Original price

$69.99

-

Original price

$69.99

Original price

$69.99

-

Original price

$69.99

Pesann.com

Get prepared for your next adventure with this Military Style MOLLE Tactical Backpack Rucksack. Perfect Extensibility Featured with the fully cust...

View full details

Original price

$69.99

-

Original price

$69.99

Original price

$34.99

-

Original price

$34.99

Pesann.com

This military tactical sling bag is not only a superb compliment to someone's style regarding fashion but has all the top-of-the-line built-in feat...

View full details

Original price

$34.99

-

Original price

$34.99

Original price

$59.99

-

Original price

$59.99

Pesann.com

This waterproof tactical backpack is ideal for going hiking or camping. It holds 45 liters, allowing you to pack everything you'll need. A large zi...

View full details

Original price

$59.99

-

Original price

$59.99

Original price

$39.99

-

Original price

$45.99

Pesann.com

The military style convertible canvas dufffe backpack has all the sophisticated details & flawless functionalities to satisfy your requirements...

View full details

Original price

$39.99

-

Original price

$45.99

Original price

$86.00

-

Original price

$86.00

Pesann.com

Looking for a durable and spacious backpack for your daily commute or weekend adventures? Look no further than our canvas backpack! Made with high-...

View full details

Original price

$86.00

-

Original price

$86.00

Original price

$89.99

-

Original price

$89.99

Pesann.com

This military-grade tactical backpack is perfect for any outdoor activity. With a capacity of up to 35 liters, this backpack is made with waterproo...

View full details

Original price

$89.99

-

Original price

$89.99