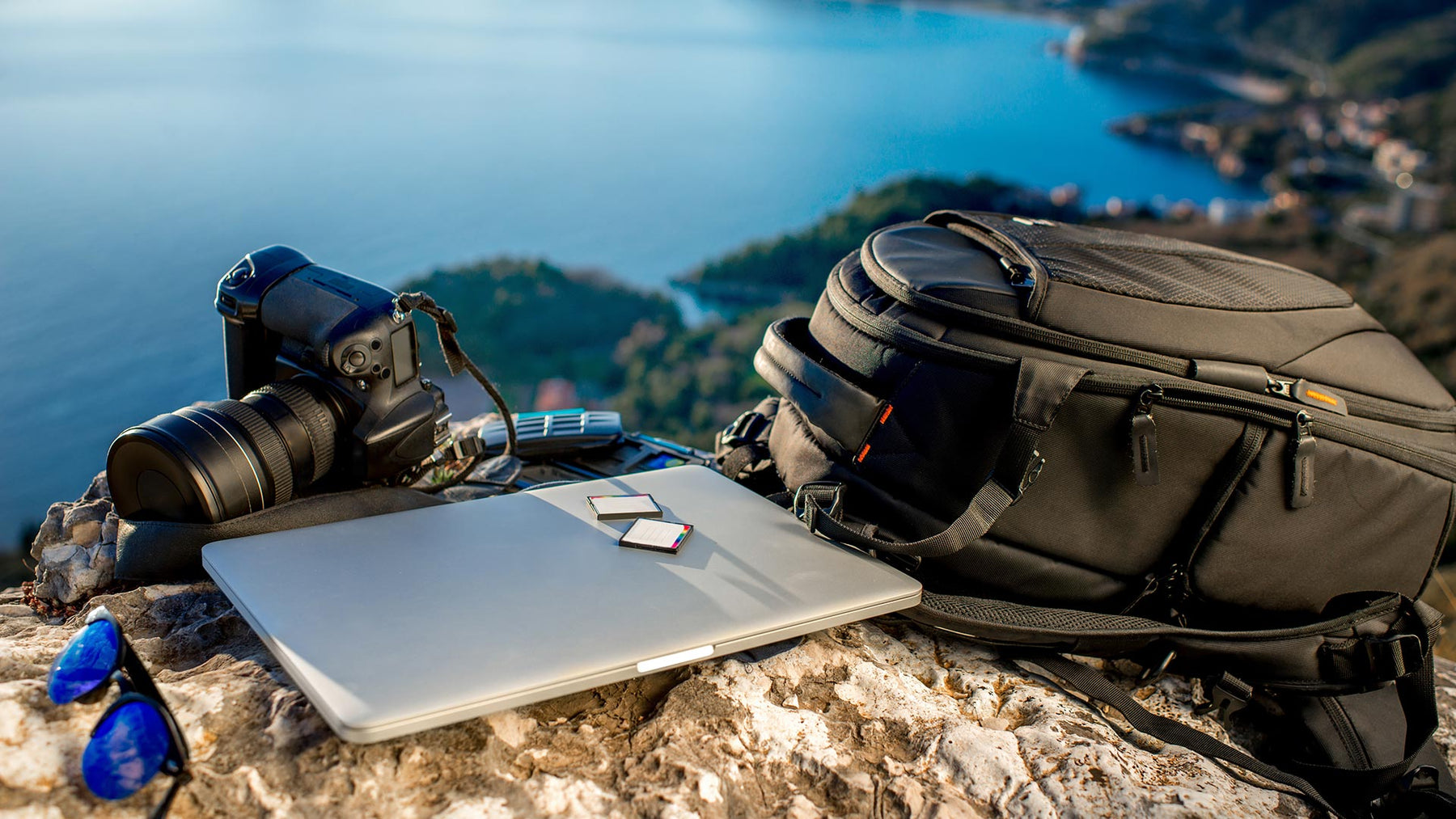 Top 10 Best Laptop Backpacks for Travel 2022
When it comes to the best laptop backpacks for travel, the answer varies from one to one.
When you're travelling, you need to make sure you have everything you need within reach. Packing light doesn't have to mean packing minimally as long as you have a great backpack. For long-distance or overnight trips, backpacks are fashionable and functional ways to keep your most important things close by and at the ready.
For those traveling for business, or who just want to keep a piece of personal entertainment closeby, the safety of the backpack is a must. You need something with a large compartment to store a large enough screen, something that's easy to pack and unpack with accessible loading, something weather and moisture resistant to keep electronics safe, and something you can carry on to flights. If you're carrying your world on your back, you better be sure the backpack can handle it.
If you're traveling enough to need a backpack, you should be packing only the essentials. If you're living in the digital age, that means a smartphone, but you can't work exclusively off a smartphone. If you need access to apps and higher power tech, you'll have a laptop to handle it. So, what is the best backpack for bringing your laptop with you in your future travels?
10 Best Laptop Backpacks for Travel
1. Multi-Functional Travel Laptop Backpack
Your laptop might be the most important thing you need to bring with you, but it's not the only thing. This is the standard model backpack everyone is familiar with, and for good reason. It's a stable, working backpack with all the functionality you need. Plenty of pockets and easy access, a wide space in the main fold for a 15" laptop, and easy ergonomic carry. And, like all modern backpacks (including ones on this list) it has a USB charger on the outside that connects to a power pack on the inside, so you can charge on the go.
2. 3 in 1 Convertible Laptop Backpack Messenger Bag
There's a problem with backpacks that everyone eventually has. They hang off your back. It's by design, but not everyone likes it. With this you have an option. It has an extendable strap you can sling over your shoulder and carry like a tote bag, or shorter handles to carry like a messenger bag/briefcase. But it still has all the portability and storage capacity of a backpack and a super-easy full-back luggage handle sleeve. A professional backpack for people who can't be seen with a backpack all the time.
3. Anti-Theft Laptop Backpack
People wearing backpacks are unfortunately subject to a number of simple petty crimes. When you carry so much around and it's where you can't keep an eye on it, chances are someone will get the brave idea to try taking something. But what if they can't find it? This backpack employs hidden pockets and compartments and extra-wide suppers capable of being padlocked shut. Layers and layers of highly resistant fabric offers security for your precious material.
4. 45L Multi-Function Travel Backpack
You need more than just your laptop when you travel. Sometimes you need a LOT more. THis is the backpack that fits a LOT in it. Clothes can have their own compartment, along with anything else you can think of. The handles are sturdy, reinforced with metal to a thick and solid frame, with air cushioned straps to keep the carrying feeling light. This is a backpack you can live out of if need be, great for exploring or touring.
5. Light Business Laptop Backpack
Great for light business that takes heavy travel. This simple, modern style backpack comes with an external USB charger and phone pocket and fits up to a 16" laptop with room to spare. It's lightweight so there's no added baggage lugging you down or bouncing your laptop around. It's simple and clean like your business should be.
6. The Ultimate Anti-Theft Backpack
For when you need to go from secure to top secret, this backpack will keep your valuables safe from anything. The main trick is in its opening. The zipper opens close to the straps, and folds out from the rear, where your back is. You have to take it off and unfold the back out. The front is just for show. A simple deception that gives would-be thieves no opening to attack you from.
7. Military Canvas Backpack
Army tested and certified, this is the standard backpack that infantrymen rely on to live out of in the wild. So it goes without saying it's great for your laptop, too. But don't stop there. This water resistant thick canvas covered model is designed for long-term use and long periods of wearing without wearing you down with weight or discomfort. It's easy to depend on for the great outdoors or the great commute.
8. Wide-Open Laptop Backpack
This model of backpack is ideal for storing not-so-flat items and a lot of them. The top has a purse-like zip together mouth which can open to a width equal to the base, about 7.8" by 11". It's a stout, squared-off thing great for carrying around plenty of extra material to stay entertained on a long flight while keeping your laptop safe.
9. Multifunction Hard Shell Backpack
Wearing this can make you feel like you're part of the future. Featuring a non-deforming water and scratch-resistant outer shell, this is the highest level of external protection for your most expensive laptops and accessories. With external USB charging ports it's perfect for wider screen gaming laptops. It's so sturdy you can even use it as a table.
10. 'The Atlantis' Ultimate Travel Backpack
Good enough to go with you all the way to the bottom of the sea. This is the largest backpack with the widest set of features, from multiple high-volume storage sections to a wide opening with a quick acting zipper to open and close it fast. It's the best of the best. If you don't know what feature you can live without, this has them all and looks great too.
Related products
Original price

$84.99

-

Original price

$98.99

Original price

$84.99

-

Original price

$98.99

Pesann.com

Not just a bag or a backpack! This 3-in-1 convertible laptop backpack messenger bag can be used as a laptop backpack, a briefcase, or a messenger b...

View full details

Original price

$84.99

-

Original price

$98.99

Original price

$84.99

-

Original price

$98.99

Original price

$69.99

-

Original price

$89.99

Original price

$69.99

-

Original price

$89.99

Pesann.com

Designed for people who are always on the go, this pack is versatile and comfortable. Carry your laptop and all your work essentials around in styl...

View full details

Original price

$69.99

-

Original price

$89.99

Original price

$69.99

-

Original price

$89.99

Original price

$78.99

-

Original price

$78.99

Pesann.com

Comfortably carry your laptop while commuting or keep your phone or tablet charged during weekend getaways with this Multifunctional Laptop Backpac...

View full details

Original price

$78.99

-

Original price

$78.99

Original price

$48.00

-

Original price

$48.00

Pesann.com

A backpack for your business needs. It's a busy world out there, and we know how difficult it can be to stay organized and connected with all the l...

View full details

Original price

$48.00

-

Original price

$48.00

Original price

$62.99

-

Original price

$62.99

Pesann.com

Introducing the Atlantis backpack, the ultimate waterproof laptop backpack for travel. Perfect for that weekend adventure, a business trip, or just...

View full details

Original price

$62.99

-

Original price

$62.99

Original price

$42.99

-

Original price

$42.99

Pesann.com

The beautiful detailing and design of this laptop tote backpack will never go out of style and trend. You can use this backpack as a school bag, t...

View full details

Original price

$42.99

-

Original price

$42.99

Original price

$44.99

-

Original price

$44.99

Pesann.com

This backpack offers stylish peace of mind. Besides looking clean and modern, this backpack offers three key safety features. Firstly, it has a h...

View full details

Original price

$44.99

-

Original price

$44.99

Original price

$39.99

-

Original price

$39.99

Pesann.com

This vegan leather laptop backpack can make your life easy and comfortable, whether it is a business trip or vacations, it can become your versatil...

View full details

Original price

$39.99

-

Original price

$39.99

Original price

$48.99

-

Original price

$48.99

Pesann.com

This vintage laptop backpack is specially designed to highlight your charm and style wherever you go. This backpack features high-quality material ...

View full details

Original price

$48.99

-

Original price

$48.99

Original price

$96.00

-

Original price

$96.00

Pesann.com

This men's backpack is designed to suit all your travel and daily needs. Made from high-quality canvas material, it has a vintage design that is pe...

View full details

Original price

$96.00

-

Original price

$96.00

Original price

$85.00

-

Original price

$92.00

Original price

$85.00

-

Original price

$92.00

Pesann.com

Looking for a stylish and durable backpack for your adventures? Look no further than this vintage canvas backpack! Designed for both men and women,...

View full details

Original price

$85.00

-

Original price

$92.00

Original price

$85.00

-

Original price

$92.00

Original price

$87.00

-

Original price

$87.00

Pesann.com

Upgrade your school or college style with this vintage canvas backpack. Made with high-quality canvas material, this backpack is perfect for men an...

View full details

Original price

$87.00

-

Original price

$87.00

Original price

$98.00

-

Original price

$98.00

Pesann.com

This multifunctional men's backpack is the perfect companion for your travel and hiking needs. With a large capacity of 20L, this backpack is perfe...

View full details

Original price

$98.00

-

Original price

$98.00

Original price

$89.00

-

Original price

$89.00

Pesann.com

Looking for a practical and stylish backpack that can keep up with your busy lifestyle? Look no further than this vintage canvas backpack for men! ...

View full details

Original price

$89.00

-

Original price

$89.00

Original price

$86.00

-

Original price

$86.00

Pesann.com

Looking for a durable and spacious backpack for your daily commute or weekend adventures? Look no further than our canvas backpack! Made with high-...

View full details

Original price

$86.00

-

Original price

$86.00

Original price

$89.00

-

Original price

$89.00

Pesann.com

Get ready to travel in style with this Vintage Canvas Backpack. This backpack is designed for fashion-savvy students and professionals who want to ...

View full details

Original price

$89.00

-

Original price

$89.00

Original price

$57.99

-

Original price

$57.99

Pesann.com

This waterproof laptop backpack comes in an attractive design that can never go out of style. It features a main, large zippered compartment for yo...

View full details

Original price

$57.99

-

Original price

$57.99

Original price

$42.99

-

Original price

$42.99

Pesann.com

Let's carry your laptop and other things around with comfort using this faux leather laptop backpack. It is specially introduced in the market for ...

View full details

Original price

$42.99

-

Original price

$42.99

Original price

$48.99

-

Original price

$48.99

Pesann.com

Made from high-quality materials, soft and comfortable, this backpack is practical and easy to wear. It comes in 7 different color options each of ...

View full details

Original price

$48.99

-

Original price

$48.99

Original price

$59.99

-

Original price

$59.99

Pesann.com

Get those travelling shoes out and put this backpack on, you'll look the part and totally smart. Made from high-quality vegan friendly Pu-Leather m...

View full details

Original price

$59.99

-

Original price

$59.99

Original price

$86.00

-

Original price

$86.00

Pesann.com

Sturdy & Practical, waterproof for all year-round use, this fashionable Men's backpack is very stylish and suitable for all occasions such as c...

View full details

Original price

$86.00

-

Original price

$86.00