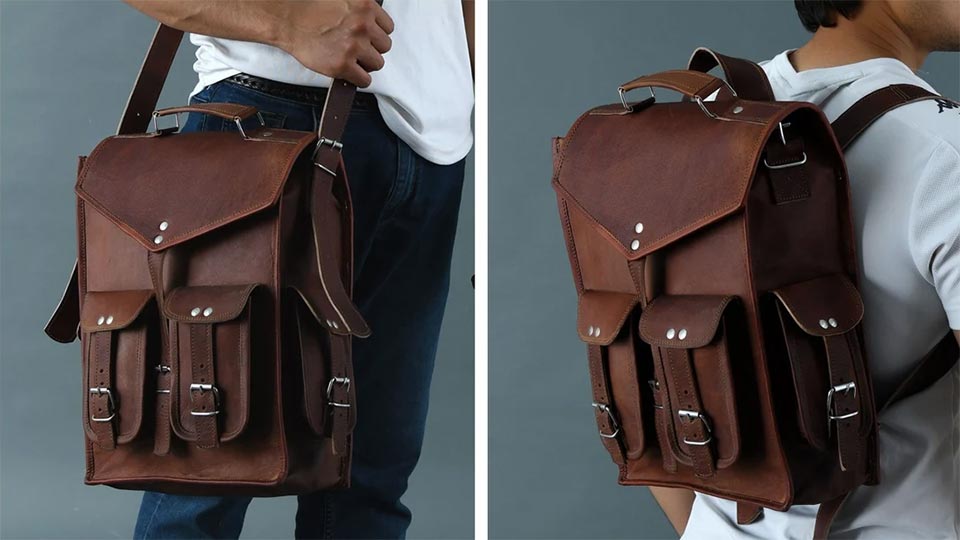 Things To Consider When Choosing A Convertible Laptop Backpack
A convertible laptop backpack, or a convertible laptop bag, is an item that can act like a regular backpack and a laptop bag. A convertible laptop backpack is not only for transporting laptops but can also be used to carry office supplies. The backpacks are typically made of durable materials that can withstand heavy use. Choosing the best convertible laptop backpack will depend on a wide range of factors, including the user's budget, size, height, and preferred carrying style.
Things to consider when choosing a convertible laptop backpack
1. Budget
The budget is a huge part of the decision-making process when purchasing a convertible laptop backpack. Buying the best will often mean paying more, but it will be worth it in the long run. When choosing within a budget, consider the cost of the bag and how useful life it is expected to last. The less expensive bags may be appealing to purchase, but they may not last as long as desired and may require replacement before they have been fully used.
2. Size
The size of a convertible laptop backpack is also very important in protecting its contents inside. When buying a backpack for the laptop, the laptop's dimensions must be considered along with any other items that will be stored inside. Buying a bag too large can mean that smaller laptops may not fit in, and larger laptops may not have enough room to have their own space within the bag.
3. Height of the user
A convertible laptop backpack should also be based on the person's height. While many bags are adjustable, some are more comfortable to wear when adjusted to the proper height of their user. The bag should be comfortably resting just above the waistline and away from areas where it could hit against a chair, back, or another hard surface when sitting down.
4. Preferred carrying style
The primary choice should be based on the user's preferred carrying style and personal preference. The most common styles are backpacks, messenger bag, and sling styles. Backpacks fit most carrying styles with the added benefit of being able to store other items inside. Messenger bags are more suitable for someone who prefers to carry their laptop but will also be transporting other items. Sling-style bags may only hold a laptop but are preferred by some people due to their ease of transport on a person's shoulder or hip and their ability to be easily dismantled when not needed.
5. Laptop compartment
When choosing a convertible laptop backpack, the laptop compartment is another consideration that should be considered. The best bags will have a padded compartment for the laptop itself and additional pockets for other items that may need to be stored next to the laptop. There should also be enough room within the bag to store cords or adapters and close the bag when it is time to move on.
6. Comfort
A convertible laptop backpack is meant to be worn for long periods and should offer some level of comfort to allow for this. A comfortable back panel and chest straps can help reduce the risk of heavy strain on the user's back, shoulders, neck, and upper body while wearing it. This will also make it more comfortable to carry in any weather conditions and allow for easier carrying when taking public transportation.
7. Durability
The convertible laptop backpack should be durable materials that hold up to heavy use. The material should also be water resistant when it is raining or snowing outside, and the bag should not need to be disassembled often during use. The desk of the bag should also have some padding on its surface against which it rests while being transported, and this will help prevent the contents from digging into the side of your back or sliding off via sweat or friction.
Conclusion
The convertible laptop backpack should be bought based on the user's needs and requirements to get the most out of a convertible laptop backpack. Finding something that is both a suitable size and height for carrying is important, as well as finding a bag that can securely hold the laptop and allow for other needed items to be stored as well. The best bags will also have a laptop compartment with padding inside to hold the laptop and any additional items that may need protection from physical damage. Look for bags made of durable materials that can withstand years of use on multiple levels. Comfort is also important when deciding which convertible laptop backpack is right for you.
Related products
Original price

$84.99

-

Original price

$98.99

Original price

$84.99

-

Original price

$98.99

Pesann.com

Not just a bag or a backpack! This 3-in-1 convertible laptop backpack messenger bag can be used as a laptop backpack, a briefcase, or a messenger b...

View full details

Original price

$84.99

-

Original price

$98.99

Original price

$84.99

-

Original price

$98.99

Original price

$69.99

-

Original price

$89.99

Original price

$69.99

-

Original price

$89.99

Pesann.com

Designed for people who are always on the go, this pack is versatile and comfortable. Carry your laptop and all your work essentials around in styl...

View full details

Original price

$69.99

-

Original price

$89.99

Original price

$69.99

-

Original price

$89.99

Original price

$78.99

-

Original price

$78.99

Pesann.com

Comfortably carry your laptop while commuting or keep your phone or tablet charged during weekend getaways with this Multifunctional Laptop Backpac...

View full details

Original price

$78.99

-

Original price

$78.99

Original price

$48.00

-

Original price

$48.00

Pesann.com

A backpack for your business needs. It's a busy world out there, and we know how difficult it can be to stay organized and connected with all the l...

View full details

Original price

$48.00

-

Original price

$48.00

Original price

$62.99

-

Original price

$62.99

Pesann.com

Introducing the Atlantis backpack, the ultimate waterproof laptop backpack for travel. Perfect for that weekend adventure, a business trip, or just...

View full details

Original price

$62.99

-

Original price

$62.99

Original price

$42.99

-

Original price

$42.99

Pesann.com

The beautiful detailing and design of this laptop tote backpack will never go out of style and trend. You can use this backpack as a school bag, t...

View full details

Original price

$42.99

-

Original price

$42.99

Original price

$44.99

-

Original price

$44.99

Pesann.com

This backpack offers stylish peace of mind. Besides looking clean and modern, this backpack offers three key safety features. Firstly, it has a h...

View full details

Original price

$44.99

-

Original price

$44.99

Original price

$39.99

-

Original price

$39.99

Pesann.com

This vegan leather laptop backpack can make your life easy and comfortable, whether it is a business trip or vacations, it can become your versatil...

View full details

Original price

$39.99

-

Original price

$39.99

Original price

$48.99

-

Original price

$48.99

Pesann.com

This vintage laptop backpack is specially designed to highlight your charm and style wherever you go. This backpack features high-quality material ...

View full details

Original price

$48.99

-

Original price

$48.99

Original price

$96.00

-

Original price

$96.00

Pesann.com

This men's backpack is designed to suit all your travel and daily needs. Made from high-quality canvas material, it has a vintage design that is pe...

View full details

Original price

$96.00

-

Original price

$96.00

Original price

$85.00

-

Original price

$92.00

Original price

$85.00

-

Original price

$92.00

Pesann.com

Looking for a stylish and durable backpack for your adventures? Look no further than this vintage canvas backpack! Designed for both men and women,...

View full details

Original price

$85.00

-

Original price

$92.00

Original price

$85.00

-

Original price

$92.00

Original price

$87.00

-

Original price

$87.00

Pesann.com

Upgrade your school or college style with this vintage canvas backpack. Made with high-quality canvas material, this backpack is perfect for men an...

View full details

Original price

$87.00

-

Original price

$87.00

Original price

$98.00

-

Original price

$98.00

Pesann.com

This multifunctional men's backpack is the perfect companion for your travel and hiking needs. With a large capacity of 20L, this backpack is perfe...

View full details

Original price

$98.00

-

Original price

$98.00

Original price

$89.00

-

Original price

$89.00

Pesann.com

Looking for a practical and stylish backpack that can keep up with your busy lifestyle? Look no further than this vintage canvas backpack for men! ...

View full details

Original price

$89.00

-

Original price

$89.00

Original price

$86.00

-

Original price

$86.00

Pesann.com

Looking for a durable and spacious backpack for your daily commute or weekend adventures? Look no further than our canvas backpack! Made with high-...

View full details

Original price

$86.00

-

Original price

$86.00

Original price

$89.00

-

Original price

$89.00

Pesann.com

Get ready to travel in style with this Vintage Canvas Backpack. This backpack is designed for fashion-savvy students and professionals who want to ...

View full details

Original price

$89.00

-

Original price

$89.00

Original price

$57.99

-

Original price

$57.99

Pesann.com

This waterproof laptop backpack comes in an attractive design that can never go out of style. It features a main, large zippered compartment for yo...

View full details

Original price

$57.99

-

Original price

$57.99

Original price

$42.99

-

Original price

$42.99

Pesann.com

Let's carry your laptop and other things around with comfort using this faux leather laptop backpack. It is specially introduced in the market for ...

View full details

Original price

$42.99

-

Original price

$42.99

Original price

$48.99

-

Original price

$48.99

Pesann.com

Made from high-quality materials, soft and comfortable, this backpack is practical and easy to wear. It comes in 7 different color options each of ...

View full details

Original price

$48.99

-

Original price

$48.99

Original price

$59.99

-

Original price

$59.99

Pesann.com

Get those travelling shoes out and put this backpack on, you'll look the part and totally smart. Made from high-quality vegan friendly Pu-Leather m...

View full details

Original price

$59.99

-

Original price

$59.99

Original price

$86.00

-

Original price

$86.00

Pesann.com

Sturdy & Practical, waterproof for all year-round use, this fashionable Men's backpack is very stylish and suitable for all occasions such as c...

View full details

Original price

$86.00

-

Original price

$86.00