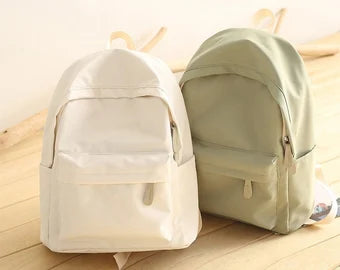 Why You Need A Basic Canvas Backpack?
Canvas backpacks are timeless. Believe it or not, you can match it with any outfit style you like. They are simple yet practical. Canvas backpacks usually come with a large main compartment, padded shoulder straps and side pockets for water bottle or umbrellas. A basic canvas backpack is a go-to bag no matter you are going to school, travelling or hanging out with your friends. 
Benefits of a basic canvas backpack
1. Made of durable and attractive canvas fabric
The basic canvas backpack is made of canvas fabric, which is very durable and strong. The fabric also has waterproof properties and can be used in all kinds of weather. Canvas fabric is a common material in the backpack industry and is recognizable because it has a natural texture.
2. Waterproof
The canvas fabric, which is manufactured from the best cotton fiber, will have a waterproof property. It can resist rainwater, wind, and other elements that could damage the backpack. The back panel of the basic canvas backpack has waterproof material to protect items stored inside the bag. The canvas fabric also helps to keep very light items, such as laptops and books, dry while there is heavy rainfall.
3. Wide variety of colors and designs
Many people are attracted by different color options of basic canvas backpacks when shopping for one or more items for their trip or commute to work, school, or college. The backpack can be customized to your own preference and color. The different designs include various patterns, alternative colors, and a variety of styles, such as sling bags, mini backpacks, and messenger backpacks, among others.
4. Various Optional Pockets
The basic canvas backpack comes with a large pocket on the front of the bag in which one can store documents, magazines, or notebooks. The jacket pocket is also located on the left shoulder strap, which is ideal for carrying umbrellas and other small items while it is raining or during winter time. There are many pockets available for you to choose from depending upon your preference or needs where you need to store essential items such as electronic gadgets.
5. Lightweight Backpack
The basic canvas backpack is very lightweight and will be ideal for travelers. The backpack, with its advanced design, can easily provide all the necessary essentials while traveling so that you can carry fewer items and enjoy all your adventures to their fullest.
6. Durable Material
The canvas fabric used to make the basic canvas backpack is made from 100% cotton fiber which makes it very durable, does not rip easily, and does not fade away even after frequent use.
7. Chest Strap Adjustments
The basic canvas backpack can be adjusted to your comfortable height and secured by the chest strap. The backpack is ideal for both men and women, especially for travelers that like to explore different places around the world.
8. Padded Back Panel
The padded back panel is very helpful in providing ample padding for carrying your belongings. The backpack has a length of 46 cm (18 inches) which provides enough space for storing all your essential items, such as computers, tablets, books, and toys, among others.
9. Multipurpose Use
A basic canvas backpack can be used as a sling bag or even as a travel bag or school bag, depending upon its size.
Conclusion
The basic canvas backpack is a must-have for all travelers and students. The bag is durable and will be very useful for several years as it has been manufactured with great attention to all the details. The canvas fabric is also available in different types of designs and colors.
Related products
Original price

$84.99

-

Original price

$98.99

Original price

$84.99

-

Original price

$98.99

Pesann.com

Not just a bag or a backpack! This 3-in-1 convertible laptop backpack messenger bag can be used as a laptop backpack, a briefcase, or a messenger b...

View full details

Original price

$84.99

-

Original price

$98.99

Original price

$84.99

-

Original price

$98.99

Original price

$69.99

-

Original price

$69.99

Pesann.com

Looking for the ultimate military canvas backpack? This is the best army backpack for you! Made of high-quality 16oz canvas fabric, this military r...

View full details

Original price

$69.99

-

Original price

$69.99

Original price

$49.99

-

Original price

$49.99

Pesann.com

Tired of carrying chunky heavy bags? Looking for a simple canvas backpack that is also fashionable? This front pocket small plain canvas backpack i...

View full details

Original price

$49.99

-

Original price

$49.99

Original price

$78.00

-

Original price

$78.00

Pesann.com

Travelling has never been so easy with the Large Vintage Canvas Backpack. This vintage canvas backpack is much more than a simple bag. It's built t...

View full details

Original price

$78.00

-

Original price

$78.00

Original price

$79.99

-

Original price

$79.99

Pesann.com

Add style to your adventures with this High-Density Vintage Canvas Laptop Backpack. Sometimes it can be hard when deciding what to wear on your nex...

View full details

Original price

$79.99

-

Original price

$79.99

Original price

$64.00

-

Original price

$64.00

Pesann.com

Looking for a classic, yet stylish backpack that can fit your laptop and other essentials? Look no further. Made of high-density 16 oz washed canva...

View full details

Original price

$64.00

-

Original price

$64.00

Original price

$74.99

-

Original price

$74.99

Pesann.com

Smart & Elegant. Made from high-quality materials, a canvas & cow leather exterior with a cotton lining, this backpack is practical and com...

View full details

Original price

$74.99

-

Original price

$74.99

Original price

$111.99

-

Original price

$111.99

Pesann.com

This backpack has all the Useful anti-theft features you need to keep your belongings protected. This trendy, yet highly intuitive design backpack ...

View full details

Original price

$111.99

-

Original price

$111.99

Original price

$39.99

-

Original price

$45.99

Pesann.com

The military style convertible canvas dufffe backpack has all the sophisticated details & flawless functionalities to satisfy your requirements...

View full details

Original price

$39.99

-

Original price

$45.99

Original price

$86.99

-

Original price

$86.99

Pesann.com

Whether you are hanging out with friends, or going towards office, this convertible laptop backpack would be the perfect choice for you. The eye-ca...

View full details

Original price

$86.99

-

Original price

$86.99

Original price

$47.99

-

Original price

$47.99

Pesann.com

Whether you are exploring outdoor life or on a business trip, this sling bag backpack helps you manage and secure your items well. It is made with ...

View full details

Original price

$47.99

-

Original price

$47.99

Original price

$74.99

-

Original price

$74.99

Pesann.com

Extremely comfortable yet practical water-resistant canvas and cow leather backpack, suitable for all year-round use, this stylish bag is elegant t...

View full details

Original price

$74.99

-

Original price

$74.99

Original price

$96.00

-

Original price

$96.00

Pesann.com

This men's backpack is designed to suit all your travel and daily needs. Made from high-quality canvas material, it has a vintage design that is pe...

View full details

Original price

$96.00

-

Original price

$96.00

Original price

$85.00

-

Original price

$92.00

Original price

$85.00

-

Original price

$92.00

Pesann.com

Looking for a stylish and durable backpack for your adventures? Look no further than this vintage canvas backpack! Designed for both men and women,...

View full details

Original price

$85.00

-

Original price

$92.00

Original price

$85.00

-

Original price

$92.00

Original price

$87.00

-

Original price

$87.00

Pesann.com

Upgrade your school or college style with this vintage canvas backpack. Made with high-quality canvas material, this backpack is perfect for men an...

View full details

Original price

$87.00

-

Original price

$87.00

Original price

$98.00

-

Original price

$98.00

Pesann.com

This multifunctional men's backpack is the perfect companion for your travel and hiking needs. With a large capacity of 20L, this backpack is perfe...

View full details

Original price

$98.00

-

Original price

$98.00

Original price

$89.00

-

Original price

$89.00

Pesann.com

Looking for a practical and stylish backpack that can keep up with your busy lifestyle? Look no further than this vintage canvas backpack for men! ...

View full details

Original price

$89.00

-

Original price

$89.00

Original price

$64.00

-

Original price

$64.00

Pesann.com

Description: Looking for a stylish and practical backpack that can keep up with your daily routine? Look no further than our High-Quality Canvas Ba...

View full details

Original price

$64.00

-

Original price

$64.00

Original price

$86.00

-

Original price

$86.00

Pesann.com

Looking for a durable and spacious backpack for your daily commute or weekend adventures? Look no further than our canvas backpack! Made with high-...

View full details

Original price

$86.00

-

Original price

$86.00

Original price

$70.00

-

Original price

$70.00

Pesann.com

Whether it is a seaside vacation or a short weekend trip, this canvas laptop backpack can make you stand out from the crowd. This laptop backpack i...

View full details

Original price

$70.00

-

Original price

$70.00

Original price

$118.99

-

Original price

$118.99

Pesann.com

Do you want to carry your Laptop in style? You may need this Vintage Canvas 15 Inch Laptop Bag Backpack, which is professionally designed for every...

View full details

Original price

$118.99

-

Original price

$118.99

Original price

$103.99

-

Original price

$103.99

Pesann.com

For any adventure you want to go on, this Men's Retro Vintage Canvas Leather Backpack is your sidekick! Whether you're going to an ancient universi...

View full details

Original price

$103.99

-

Original price

$103.99

Original price

$99.99

-

Original price

$99.99

Pesann.com

Be on point with our handcrafted Men's Vintage Canvas Travel Backpack and feel at ease whether you're visiting the city or going on your next big a...

View full details

Original price

$99.99

-

Original price

$99.99

Original price

$54.99

-

Original price

$54.99

Pesann.com

This Large Waterproof Canvas Travel Laptop Backpack can keep you sorted throughout the day while also being super stylish. The Multi-Pockets in thi...

View full details

Original price

$54.99

-

Original price

$54.99

Original price

$81.99

-

Original price

$81.99

Pesann.com

Stay trendy while you're out and about with this Large Capacity Men's Backpack. Your bold, charismatic personality will be perfectly complemented b...

View full details

Original price

$81.99

-

Original price

$81.99